OUR COMMITMENT TO ENVIRONMENTAL SUSTAINABILITY
Responsible development is possible
RESPECTING OUR HOME
At Comal we pay particular attention to the environment and people.
We have always been at the forefront of concrete initiatives to promote the value of sustainability within the company, considering people and the environment. We want to be an example of how it is possible to create development in a responsible way, relying on intelligent technologies and systems, fully respecting the immense environmental and human heritage at our disposal.
OUR COMMITMENT TO THE ENVIRONMENT
LOWER EMISSIONS, LESS WASTE
We devote the same attention to product quality as we do to finding technological applications that allow us to reduce the impact of our production activities.
Sustainability means respecting the environment that hosts us and supplies us with raw materials we need. For this reason we have installed our own quadri generation plant to generate four forms of energy at the same time: electricity, water vapour, hot water, cooling energy.
Furthermore, the installation of a 600 kW photovoltaic system allows us to generate, together with the co-generator, 90% of our energy needs.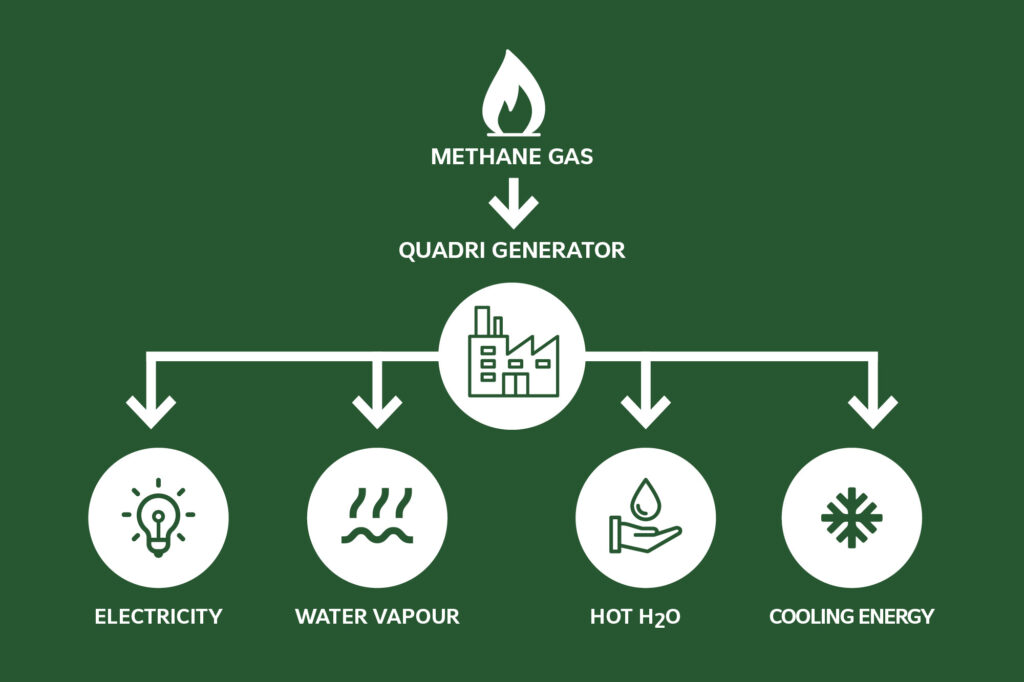 A SUSTAINABLE PRODUCTION CYCLE
LESS TONNES OF CO2 RELEASED INTO THE ATMOSPHERE EVERY YEAR
ARE EQUIVALENT TO THE BENEFIT DERIVED FROM 11,040 TREES PLANTED
These technological systems allow us to avoid releasing 1,840 tons of CO2 each year, which is equivalent to the benefit derived from 11,040 trees planted. Added to this of course is the commitment to reduce waste by using industry 4.0 machinery and a water purification plant that allows us to return the water used in the production cycle to nature. Our goal is to encourage a sustainable growth model.
SOCIAL COMMITMENT
The sense of belonging that binds Comal to the community of Novi, the town where the company has been based for over thirty years, has led us to undertake an ambitious community project intended to actively support ASD Novese, our host town's resurrected sports club. As official Partners, our goal is to show solidarity for activities aimed at reviving and redeveloping the area in which we operate on a daily basis, giving young people the opportunity to enjoy a safe meeting place, allowing them to grow and mature as players and above all as people.